An example of our work
Pictured below is a Landis automated nipple machine being converted into a semi-automatic pipe-threader. The final product is in the video below as well.
Machine completely disassembled, stripped painted, prepped for conversion.
Final product after modifcation fixtures have been installed.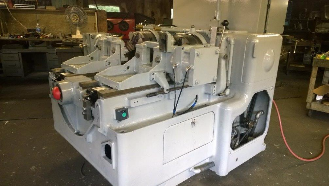 Landis Semi Automated Double Spindle Pipe & Nipple Threader
This is a modified Landis Automatic Nipple Machine. It has been completely stripped of it's mechanical automation and has been re-designed for the Sprinkler Fabrication, or Pipe & Nipple threading Industry. It is very well suited for the Pipe & Nipple Industry as well. It has been fitted with a PLC (Programmable Logic Controller) and is pneumatically operated.
Landis 2" Model "C" Single Spindle Semi Automatic Feed Pipe Threader running 1" S-40 Black Pipe at moderate speed, producing appox. 2+ pieces per minute. This machine is controlled by a mechanical valving system.
For Sales, Service, Info, or Technical support, please contact us at maurorac@aol.com, or (732)938-5084
We are also interested in any equipment you might have for sale.